Video Switches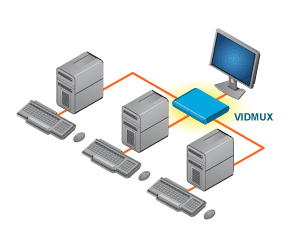 Switch multiple computers to one monitor. Share monitor among several computers.
Also known as: VGA Switch.
The VIDMUX® VGA Video Switch enables up to 16 PC, MAC or SUN computers with VGA video to be connected to a single monitor, projector or plasma screen. It supports crisp and clear 1920x1200 video resolution and 150 MHz bandwidth.

The VIDMUX® DVI/HDMI video switch enables one DVI/HDMI display and speakers to be switched between up to eight single link digital DVI/HDMI video sources. Supports HDTV resolutions up to 1080p and computer resolutions to 1920x1200 (WUXGA).
The VIDMUX® BNC Video Switch allows you to share one monitor among multiple Workstations. The 2 port units support 300 MHz bandwidth, while the units with 4 or more ports support 150MHz bandwidth. All models provide crisp and clear 1900x1200 video resolution.