USB KVM Cables & USB Adapters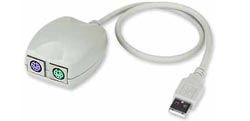 USB VGA Cable, USB PS2 SUN Adapter
All-in-1 USB KVM cable extends a VGA monitor and USB keyboard/mouse up to 15 feet.
Also known as: All-in-1 USB VGA KVM cables, USB PS/2 Adapters, USB SUN adapter
USB KVM Switch allows one user to control up to 32 USB computers with one USB keyboard, USB mouse and VGA monitor. Features NTI's patented USB true electronic autoboot technology!
There are no products matching the selection.